MESSAGE FROM FR. TEO
APRIL 5, 2020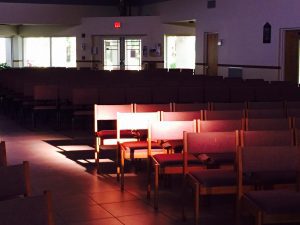 Dear parishioners and family of St Max,
Our little church has turned into a huge, quiet place filled with empty chairs where no one sits or stand in a welcoming mood, where there is not a smile, chat, embrace or a shake of hands, where the spirit of joy and company shared, gestures or comments of the events are not hearsay or heard. It is the cold reality of much of what we are experiencing but mostly, you are missed, since you are the life and warmth of parish family and community life where if one member is missing, all of the family is affected.
At daily Mass and at all of the prayers and devotionals recited privately, you are present in word, thoughts and wishes, being thankful for the blessings received,  and even now asking God in his infinite mercy to bring a relief to our feebleness of humanity, awaking in us his love for all, and making us realize we are affected with days and nights of uncertainty, challenging our joys, happiness and securities of health, extended to each and everyone whom God graciously has put into our path, particularly those entrusted with the gift of giving assistance restoring us to health at the price of risking their own.
Our faith is tested and our hope is challenged at times, but the deeds which characterize our love are the source of the Spirit of God in our midst.  In whatever little way, keep it up, give a cheerful smile to those around you, adding a blessing and good wishes. Call your friends and family to uplift them, since they are dealing with the same struggle, and be a doer, not a downer. We are together in spirit, and God will lead us through the rough terrain and stormy waters.
That being said, I would like to reiterate the importance of you taking care of yourselves, following the authorities mandates for your own good and the good of all those important to you.  When this is passed and past, let's rejoice to be back home at St Max with God's help.  No one has filled your empty place.
Love and best wishes, Blessings,
Fr. Teo